About Hill Top Views
Hill Top Views is a 3D map of the world, including labelled models of thousands of hills and mountains. Landscape models can be exported as SVG graphics for use in artwork, or as STL files which can be imported into 3D rendering or 3D printing software.
The maps are intended to represent natural landscapes in 3D, and do not include buildings, bridges, and other man-made structures. However, they do include some larger roads, rivers, railways and regional boundaries, whose outlines are taken from Open Street Map.
Data sources
The maps are based on topographic data collected from NASA's Shuttle Radar Topography Mission (SRTM) in 2000, which covers all latitudes between 60°S and 60°N to a resolution of around 90 metres. This is combined with data from Open Street Map, which is used to identify lakes, coastlines, rivers, roads, train lines, and regional boundaries.
The names and positions of mountains are taken from various catalogues. In Britain and Ireland, much of the data was taken from the Database of British and Irish Hills. The positions of mountains elsewhere in the world were taken from Open Street Map.
Terrain colors and controls
The maps are colored according to terrain elevation, with low-lying terrain colored green, and higher terrain colored grey or white.
The color scale can be adjusted to give maximum contrast to peaks and valleys at particular altitudes. This is done by adjusting the elevation sliders on the right-hand side of many of the maps.
All of the 3D landscape models include a calculation of how sunlight will illuminate the terrain at different times of day. You can use the "Time of Day" slider to move the Sun from east to west. Some of the most spectacular views are to be had around dawn and dusk, when the Sun is low in the sky and casts long shadows.
The fog control lets you vary how far into the distance you can see. Some of the views on this site are quite optimistic about how far into the distance you are likely to be able to see, and applying fog may be helpful if you're trying to line up a diagram with a real photo.
Dominic Ford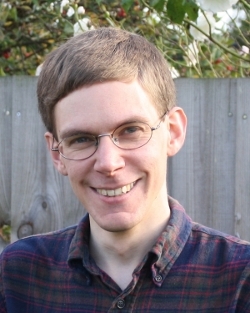 I work on the Exoplanet Analysis System for the European Space Agency's forthcoming PLATO mission, which is scheduled for launch in 2026. I am based at the Institute of Astronomy in Cambridge, UK, where I work with Nicholas Walton.
From 2017 until 2019, I worked at Lund Observatory, Sweden, leading the development of the 4MOST consortium's data analysis pipeline for spectroscopic surveys of the Milky Way. In particular, I studied the strengths and limitations of machine-learning techniques for analysing astronomical spectra, since such methods may be the only feasible way to process the tens of thousands of spectra that 4MOST will observe every night.
Projects I work on in my spare time
Experimental projects
Old projects
Ancient projects
In the 1990s I was the kind of geeky teenager who sat in my bedroom writing computer games for my Acorn Electron. I even got a couple of them published. Though the reviewers spotted, quite correctly, that I wasn't very good at making up story lines.
Copyright information
Contact details
You can email me at

.